Saturday, January 23, 2021, 9 – 10:30 a.m.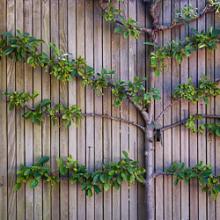 In espalier, a woody plant is trained as a vertical trunk with horizontal branches in a single plane. This technique is both beautiful and productive, showing both the art and science of horticulture. Topics include history, contemporary applications, and tools. You will gain experience identifying fruit spurs and leaf and shoot buds, practice tying supports, and learn where to prune. Existing pruning knowledge is necessary.
The School's CEUs=1.5 hours
OPC elective
This class will be taught online via Zoom. All registrations must be submitted online two days before your class starts. Registered students will receive login instructions one day in advance.
Heather Sherwood, senior horticulturist, Chicago Botanic Garden
Online