Saturday, August 7, 2021, 4 – 5:30 p.m.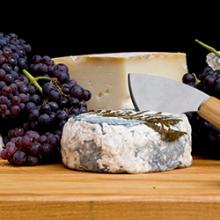 New! In France, cocktail hour is known as l'heure de l'apéro. In this online cooking class, you will learn about the ritual of the cocktail hour, the world of French apéritifs, and how to prepare classic French snacks to enjoy with your favorite libation. Featured recipes include gougères (savory cheese puffs made with choux pastry), marinated olives, and spicy glazed bar nuts. You will need a pastry bag (which can be found online or at craft stores) and parchment paper. You will also need to purchase ingredients and complete some easy, pre-class prep. A full ingredient list, pre-class preparation instructions, and recipes will be sent in advance of the class. All registrations must be submitted online two days before your class starts. 
This class will be taught online via Zoom. Registered students will receive login instructions one day in advance.
Emily Paster, cookbook author and blogger