Wednesday, January 20, 2021, 7 – 8 p.m.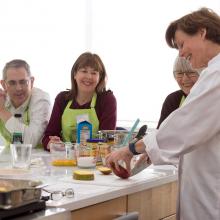 New! Over the past year, many of us have tried our hand with homemade yeasted breads. Discover tricks and tips so your bread recipes bake up reliably every time, such as the difference between active dry and instant yeast, differences in flours, knowing when your dough has been kneaded enough, and when it has fully proofed. Come prepared to share your questions and challenges with wheat-based bread doughs for the instructor to troubleshoot. All registrations must be submitted online 2 days before your class starts.
This class will be taught online via Zoom. Registered students will receive login instructions one day in advance.
Jessica Ellington, executive pastry chef and owner, Sweet Bee