Friday, August 23, 2019, 6 – 8 p.m.
Friday, December 13, 2019, 5 – 7 p.m.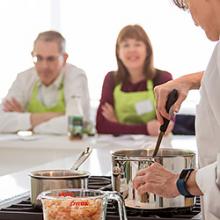 Discover the possibilities of cooking with chickpeas—high in fiber and protein, and gluten-free. In this cooking class, you will learn how to incorporate the vibrant flavors of India in a variety of different gluten-free dishes including chickpea avocado salad and chickpea masala curry served with basmati rice.
Shilpi Saxena, culinary instructor
ITW Kitchen, Learning Center