Monday, April 23, 2018
10 a.m. – noon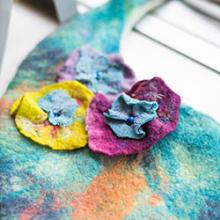 New! Make a beautiful wet felted flower pin, perfect to cheer up any spring day. Use layers of hand-dyed wool, silk, bamboo, and sparkles, along with beads, to add the finishing touches. Learn a new technique and enjoy an exquisite flower to adorn your bag, coat, or hat. 
Register for this class and Shibori-dyed Scarf together and save ten percent. Please call (847) 835-6801 to register and receive the package discount.
Classroom 5, Learning Center