10 Saturdays, September 12 – November 14, 2020, 10 a.m. – 1 p.m.
(no class November 28)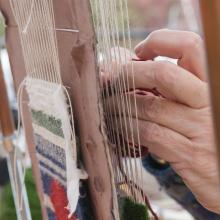 Explore ways of using surface, image, and text within woven forms as you focus on an independent project under instructor guidance in this course designed for intermediate students. Delve deeper into the construction of fabric, and apply these skills to your own artistic practice. Weekly presentations on contemporary weavers will complement this studio course. Bring your own frame loom or use a provided loom. Students may also participate in this class remotely by using Zoom video conferencing platform to view the live weekly presentations as well as to attend check-in meetings with the instructor and peers during the remainder of the class studio time. 
Emily Breidenbach, artist and arts administrator, School of the Art Institute of Chicago
Classroom 5, Learning Center or Online