Wednesday, September 22, 2021, 10 a.m. – noon
or
Monday, September 27, 2021, 6:30 – 8:30 p.m.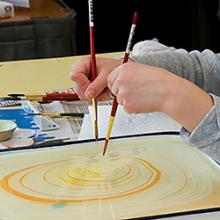 Suminagashi means floating ink in Japanese. It is the ancient meditative practice of gently floating ink on water to create marble-like patterns. The designs are then transferred to absorbent Japanese paper. Suminagashi offers endless possibilities as no two are ever alike. A supply list will be sent.
Kay Thomas, artist
Classroom 5, Learning Center