8 Tuesdays, September 25 – November 13, 2018
9:30 – 11:30 a.m. or 7 – 9 p.m.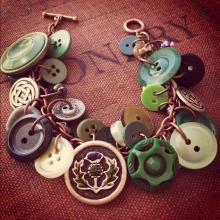 Inspired by the little treasures you save and love, we will cleverly combine old and new elements to create spectacular jewelry. Bring your special and sentimental keepsakes, single earrings, buttons, charms, chains, family photos, and found objects and let Bonnie Arkin inspire your creativity. You will learn to solder, wire wrap, and string. Arkin has many examples to share and resources for treasure hunting. A supply list is given at the first class, but you can start collecting treasures now.
Bonnie Arkin, artist and designer
Classroom 5, Learning Center