Saturday, June 29, 2019, 9:30 a.m. – 4 p.m.
and Sunday, June 30, 2019, 1:30 – 4:30 p.m.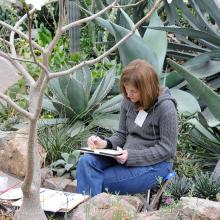 Pastel dust is a medium that lends itself to great vibrancy and soft blending, perfect for botanical subjects. Used in conjunction with pastels and pastel pencils, it combines an expressive painterly approach enhancing your ability to achieve greater detail. The School's CEUs=8.5 hours. A supply list will be sent with your confirmation.
ART elective
Marlene Hill Donnelly, scientific illustrator, Chicago Botanic Garden and the Field Museum
Classroom 4, Learning Center