4 Sundays, November 28 – December 19, 2021, 9:30 a.m. – 12:30 p.m.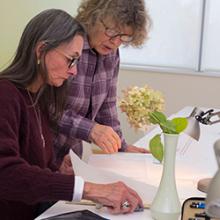 This studio class is open to all levels. You may bring a project of your choice in any medium, or work with plant subjects to create a new art piece. Lectures and demonstrations illustrate principles that pertain to all media. A supply list will be sent. The School's CEUs=12 hours
This class will be taught online via Zoom. All registrations must be submitted online two days before your class starts. Registered students will receive login instructions one day in advance.
ART elective
Marlene Hill Donnelly, scientific illustrator, The Field Museum
Online