4 Sundays, September 19 – October 10, 2021, 9:30 a.m. – 12:30 p.m.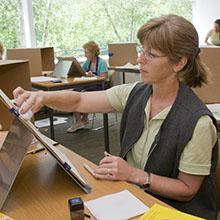 New! Enhance your composition and design skills with relaxed and fun exercises in the Japanese art of notan, or interaction between light and dark. Harmony in arrangement of light and dark values provides a foundation for powerful paintings. You will create both preliminary painting studies and finished botanical and landscape art by effectively applying charcoal and white charcoal, pen, or brush and ink. A supply list will be sent. The School's CEUs=12 hours
This class will be taught online via Zoom. All registrations must be submitted online two days before your class starts. Registered students will receive login instructions one day in advance.
ART elective
Marlene Hill Donnelly, scientific illustrator, The Field Museum
$249/$312 | Online