4 Saturdays, November 13 – December 11, 2021, 10 a.m. – noon
(no class November 27)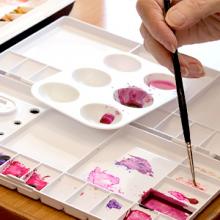 Discover the unique painter waiting inside you. Even if you have no prior art experience, in just four mornings of painting and with one-on-one time with the instructor, you will learn a wide variety of watercolor techniques and basic color theory. Explore many different ways to put paint onto paper, including washes and various textures from splattering to dry brush. A supply list will be sent.
This class will be taught online via Zoom. All registrations must be submitted online two days before your class starts. Registered students will receive login instructions one day in advance.
Patsy Welch, Beaux-Arts de Paris-trained artist and educator