6 Saturdays, June 1 – July 20, 2019, 1 – 4 p.m.
(no class June 15 or July 6)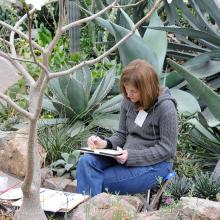 Open to all levels, this class will immerse you in the painting process from day one. You will learn how to select, compose, and paint based on strong design, values, and colors. This wonderful medium allows for extended manipulation and nuances of interpretation. Dress for the weather. Prerequisite: Botanical Drawing 1. A supply list will be sent with your confirmation.
ART requirement option, expressive track
Thomas Trausch, artist, TWSA master status
Design Studio, Regenstein Center