Wednesday, December 16, 2020, 1:30 – 3 p.m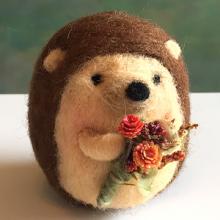 Create an adorable hedgehog, made out of wool. Learn needle felting techniques in this easy, fun online class. The hedgehog's shy smile and flower bouquet make him hard to resist. All registrations must be submitted by December 1, 2020. Your complete kit will be mailed to your home address prior to class.
This class will be taught online via Zoom. Registered students will receive login instructions.
Natasha Lewis, fiber artist, Esther's Place Fiber Arts Studio