4 Thursdays, November 14 – December 12, 2019
1 – 3:30 p.m.
(no class November 28)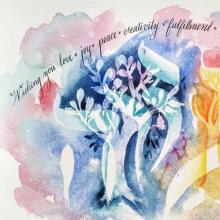 Adorn the holidays with the beautiful, personal touch of calligraphy. Create beautiful holiday cards, gift tags, place cards, and thank-you notes. Learn to embellish your notes with such simple holiday motifs as holly, wreaths, and candles. A supply list will be sent.
Judith Joseph, artist and educator
Classroom 5, Learning Center