8 Wednesdays, October 10 – December 5, 2018
9 – 11:30 a.m.
(no class November 21)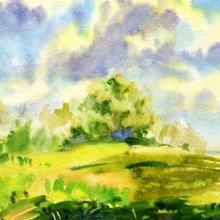 Watercolor is a delightfully fun medium. In this class, you'll learn a variety of watercolor techniques, including washes and how to make a range of textures on paper, plus some color theory to get you started. No prior experience is necessary.
Patsy Welch, artist and educator
Classroom 5, Learning Center