8 Wednesdays, May 9 – June 27, 2018
7 – 9 p.m.
8 Wednesdays, July 18 – September 5, 2018
9:30 – 11:30 a.m.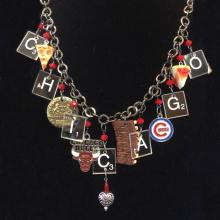 This class is for those students who have participated in Rejuvenated Jewelry with Bonnie Arkin and are ready to delve deeper, learn more techniques, and explore many creative ideas. We create spectacular jewelry from vintage broken jewelry, watches, tin, and china. Bring your grandma's jewelry box and collected treasures. Prerequisite: Rejuvenated Jewelry or consent of the instructor.
Bonnie Arkin, artist and designer
May 9 sessions: Classroom 5, Learning Center
July 18 sessions: Classroom 4, Learning Center