EDUCATION
Winter Break Camp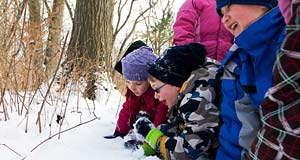 Winter Break Camp at the Chicago Botanic Garden is an opportunity for children ages 5 to 8 to engage in exciting indoor and outdoor activities while exploring the Garden as it takes a long winter's nap!
Become a Garden Plus member today and enjoy a special discount.
Campers will investigate weather, explore seasonal adaptations of plants and animals, visit Wonderland Express, experience Japanese language and culture, study snow, and play outside.
This fun camp offers kids in Chicago's North Shore suburbs a wide variety of activities that take advantage of the facilities and expertise at the Chicago Botanic Garden.
Rave reviews from parents of campers
"Excellent, rich experience!"
"My camper enjoyed making treats and learning about origami."
"He enjoyed looking for animal tracks in the snow and the expedition to the Japanese Garden."