Education
Vocational Rehabilitation Impact Center (VRIC)
In June 2009, the collaboration between the Chicago Botanic Garden and Vocational Rehabilitation Impact Center (VRIC) was established. Formerly called the Cook County Sheriff's Boot Camp, it is one of the educational programs that serve inmates during their incarceration.
Participants in the VRIC grow, maintain, and learn about organic vegetable production. Vegetables are used in the mess hall and donated to local food pantries. The first platoon of inmates built 30 raised beds, planted one acre of vegetable transplants and seeds, and maintained the farm for the entirety of their residency. More than three thousand pounds of produce was harvested and distributed to the mess hall and food pantries over the course of the growing season. During the Post Release Phase (PRP) of their sentence, eight PRPs helped with the clean-up and maintenance of the North Chicago Green Youth Farm and the Peoples Garden, and assisted the Garden staff with set-up for Wonderland Express. They also helped to construct a movable hoophouse within the VRIC facility.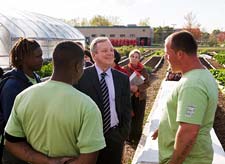 With the first year of the VRIC garden program such a success, the Garden is excited to venture into a new partnership with VRIC on a compost operation. The compost operation will collect food scraps from the mess hall, paper from the facility, and landscape material from the farm and ten acres of lawn. All of this material will be used to create high-quality compost to be used for expanding the farm and other community gardening operations.
As we continue to work with inmates at the VRIC facility on both the facility garden program and the post-release activities, the Garden's hope is to enroll VRIC graduates into the Windy City Harvest program. Windy City Harvest is delivered in partnership with Richard J. Daley College – Arturo Velasquez Institute Campus. Windy City Harvest is a nine-month certificate program in sustainable urban horticulture and agriculture, consisting of six months in class/hands-on training and a three-month paid internship. After completing the nine-month program, students can apply for a five-month paid apprenticeship program in Winter Growing Methods.
For additional information contact Angela Mason, director of community gardening, at , or by calling (847) 835-6970.