World Environment Day Lectures
About Dr. Nalini Nadkarni
Dr. Nalini Nadkarni has been an international pioneer both in forest canopy studies
and in fostering the communication of canopy research among scientists
and to the general public.
For three decades, she has climbed trees on four continents, using
mountain-climbing techniques, construction cranes, walkways, and
hot air balloons to explore the world of animals and plants that live in the treetops.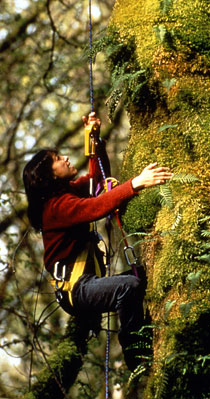 Nalini Nadkarni, Ph.D., the "queen of canopy research," is a National Geographic Live lecturer and professor of environmental studies at The Evergreen State College in Olympia, Washington. In 2001, Dr. Nadkarni received a Guggenheim Fellowship for collaborations with artists, musicians, physicians, sports figures, and religious leaders, on projects designed to help nonscientists become aware of her research.
Photo: Theresa Frare

Dr. Nadkarni will be autographing her book, Between Earth and Sky: Our Intimate Connection with Trees after the lecture.
Dr. Nadkarni and her collaborators have revealed that the organisms and processes of the treetops are critical players in such important environmental issues as saving biodiversity, stabilizing global climate, and enhancing sustainability of forest resources. Her specific questions — pursued in the cloud forests of Costa Rica and the temperate rainforests of Washington State — concern how canopy-dwelling plants affect nutrient cycling and provide resources for arboreal birds and mammals. Her experimental work in the treetops shows that canopy communities are vulnerable to projected changes wrought by global climate change.
Dr. Nadkarni is a faculty member at The Evergreen State College, in Olympia, Washington, where she splits a position with her husband, a tropical entomologist. Her research is supported by grants from the National Science Foundation and the National Geographic Society. Dr. Nadkarni has published more than 90 scientific articles and three scholarly books. Her recent awards include a Guggenheim Fellowship for excellence in scholarship and creativity, the J. Stirling Morton Award of The National Arbor Day Foundation, an Aldo Leopold Leadership Fellowship, the Presidency of the Association for Tropical Biology and Conservation, and the Award for Canopy Ecology.
Her work has been featured in popular magazines such as Natural History, Glamour, Discover, and Ranger Rick. She has also appeared in numerous television documentaries, including Bill Nye the Science Guy; Good Morning, America; and the Emmy Award-winning National Geographic Heroes of the High Frontier.
In 2010, Dr. Nadkarni was recognized by the National Science Board with the Public Service Award, which honors an individual who has made substantial contributions in increasing public understanding of science in the United States. This award was made "for her ground-breaking research in forest canopy science, and for her outstanding and truly unique achievements in public service in science though forging connections with the general public and involving nontraditional audiences in her scientific research."