World Environment Day Programs
Natural Areas Tours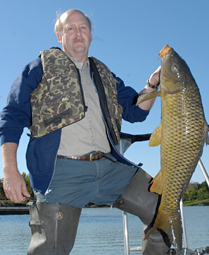 Learn more about lakeshore restoration. Sign up for Bob Kirschner's professional program Lake and Pond Shorelines: Controlling Erosion and Enhancing Habitat, on Wednesday, August 17, from 9 a.m. to 3 p.m.

Lakeshore
Bob Kirschner, director of Aquatic Plant and Urban Lake Studies
1:30 p.m. (15 to 20 minutes)

Tour start location:
The lakeshore across the road from the Plant Science Center entrance bridge
With a 60-acre system of lakes, the Garden is affectionately called by some "The Garden on the Water." Join Bob Kirschner, the Garden's director of aquatic plant and urban lake studies, to see how more than a quarter-million wetland plants have been used to stabilize our lakeshores and enhance habitat for fish, turtles, and frogs. There will be a demonstration on how to install native plant plugs along urban lake and pond shorelines. Then, watch as the Garden's huge aquatic plant harvester machine fires up and heads out into the lake to remove invasive aquatic plants.