World Environment Day Programs
Horticulture Demonstrations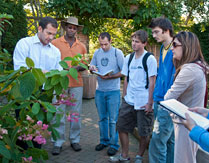 Learn more about our demonstration topics with classes at the Garden! Sign up for one today!
Which Tree for Me?
2 Tuesdays, June 7 & 14
Roses for Chicagoland
Saturday, June 18
Invasive Ornamentals
Saturday, June 18
Mulches and Compost
Saturday, July 23
Preserving the Harvest with Tomatoes
Wednesday, August 31

Join us for demonstrations throughout the Garden.
In the Rose Garden, Fruit and Vegetable Garden, and Esplanade, horticulturists demonstrate a variety of techniques for getting the most out of your garden while practicing sustainable gardening techniques.

11 a.m. – 4 p.m.
Rose Garden

Learn the best tools for each of your gardening tasks and how to care for them from Sean Reagan with "Best Tools and Their Care."

In "Best Tree-Planting Practices," Dave Cantwell will share sure-fire tips and demonstrate how to save money and time, all while helping to assure the longevity of the trees in your garden.

Meet Moshe on the Regenstein Center North Steps at 11:30 a.m. first for "Best Trees and Shrubs for the Chicago Area." After his presentation, find him in the Rose Garden for "Tree I.D. & Selection for Homeowners"

"Eco-Friendly Lawn Care" with Tom Fritz gives you turf tips that will not only turn your neighbors green with envy, but help the environment as they fortify your grass.

Learn about roses that are resistant to black spots, midges, and other problems, and learn simple tips that will keep your roses mildew- and fungus-free with Corri White in "Green Tips for Rose Care." Discover effective and ecofriendly solutions for coping with insects without resorting to chemicals.

Learn the characteristics of invasive plant species and their ecological and economic impacts in "Landscape Alternatives for Invasive Species." Pick up some tips on alternative species and cultivars.

Learn when, how, and how much to water with Tom Soulsby's demonstration on "Sustainable Watering Techniques." Take home tips on how to keep your plants and lawn hearty dealing with summer droughts or torrential rains.

Have no idea what that plant is you found in your yard? Bring it in! The Chicago Botanic Garden's Plant Information Service will be on hand to find answers to your questions on mystery plants, pests, and diseases.

11 a.m. – 4 p.m.
Fruit and Vegetable Garden

Join Nancy Clifton as she explains how to create and maintain your own compost bin to give you healthy, rich soil for future use in your garden in "Successful Composting."

Learn how to plant and care for your tomatoes for maximum yield, and how to save your heirloom seeds to plant again next year with "Growing Heirloom Tomatoes."

Beekeeper Ann Stevens will answer all your bee and beekeeping questions with "What's the Current Buzz with Bees?".

11 a.m. – 4 p.m.
Esplanade

Stop by these displays to learn more about water conservation, healthy soil and soil testing, and providing a healthy environment for your trees.

"Protecting Your Water"
U.S. EPA

"Soil Science for Gardeners"
USDA Natural Resource Conservation Science

"For the Life of your Roots"
Bartlett Tree Experts