World Environment Day Programs
Talks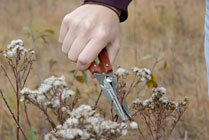 Pat Herendeen, co-director, Division of Plant Science and Conservation, will share a selection of specimens from the herbarium, and demonstrate how they have helped with Garden research, explaining how scientists can study samples to determine how climate change is affecting plants, and to find out how different groups of plants may be related to one another.

Herbarium Collections
Pat Herendeen, co-director, Division of Plant Science and Conservation
Plant Science Center, Grainger Gallery
11 a.m. to 4 p.m.

The Nancy Poole Rich Herbarium is home to 12,000 specimens of plants—from our own Cook County backyard and the Upper Midwest—all the way from Russia, Korea, and China. This living library enables scientists from around the world to identify plants that exist in our region and determine where rare species may be located. In partnership with The Morton Arboretum and The Field Museum, and with funding from the Institute of Museum and Library Services, the Chicago Botanic Garden also makes its herbarium database and images available online via vPlants: The Chicago Regional Virtual Herbarium. The site contains data for 80,000 plant specimens, and can provide real-time reference for scientists in the field. With this resource, scientists can quickly identify a plant species and assess if they have uncovered a new find!
This program is available to Garden members and visitors as part of World Environment Day programming. Standard Garden parking fees apply; Garden Members receive free parking.