World Environment Day Programs
Lemon Drop heirloom tomato giveaway
Saturday, June 4, 2011
9 a.m. to 4 p.m.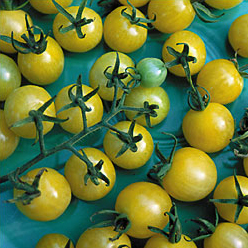 Stop by the Regenstein Fruit & Vegetable Garden throughout the day for your free heirloom tomato plant giveaway, Lemon Drop tomato.
Solanum lycopersicum 'Lemon Drop' is the winner of Seed Saver Exchange's 2010 Tomato Tasting. This heirloom tomato is grown from seed and was discovered by Florida Seed Saver Exchange member J. T. Sessions, who found this sport growing with his Snow White cherry tomato plants (Solanum lycopersicum 'Snow White'). Lemon Drop produces heavy sets of ½-¾" translucent yellow-green cherry tomatoes with a refreshing tart/sweet flavor, and the plant continues producing even in cold, wet growing conditions.
Indeterminate, 80-90 days from transplant.