World Environment Day Programs
Ask the Horticulturist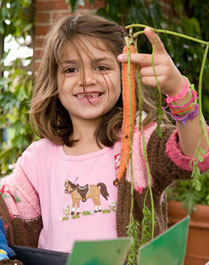 Rick Belding currently runs Let's Grow Together!, a
four-session vegetable gardening class teaching families how to plan and manage their own raised-bed vegetable gardens.
Learn more about vegetable gardening this summer with Growing Vegetables and Herbs, beginning June 21, or Herb Gardening for Beginners on June 25.

Bone up on your canning skills with Nancy Clifton's Preserving the Harvest classes this fall.
Fruit & Vegetable Garden: Growing Vegetables Organically
Richard Belding, horticulturist, Fruit & Vegetable Garden
2 p.m.
Tour start location:
Across from the Wheelbarrow Shop in the Fruit & Vegetable Garden
Fruit & Vegetable Garden horticulturist Rick Belding gives a tour of the garden, talking about sustainable gardening practices and challenges, and sharing successes in the Garden's own growing program. Discover the benefits of raised-bed gardening and growing cool- and warm-season vegetables and herbs, and learn how to plan beds for maximum success and yield. Bring your questions!

Our Fruit & Vegetable Garden beekeeper, Ann Stevens, will also "bee" answering questions and discussing current issues with bees. Ann manages the separate beehives that were added to the Fruit & Vegetable Garden to aid in pollination, and she is a terrific source of information on current issues related to bees and beekeeping.
Finish your organic gardening tour by picking up your free heirloom seedling to plant in your own garden — Lemon Drop tomato.

This program is available to Garden members and visitors as part of World Environment Day programming. Standard Garden parking fees apply; Garden members receive free parking.