World Environment Day Programs
Family-Friendly Activities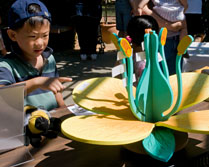 Get a whole summer of World Environment Day with Camp CBG!

Register for Camp CBG to get your child in nature for the summer. Check out some of the camps we offer for kids ages 2-15.
→ Surviving Outdoors
→ Ecology
→ Insect Investigation
→ Super Seedlings
→ Plant People
→ Dirty Jobs
To download a schedule of current camp openings, click here.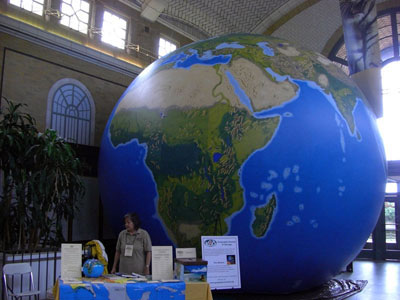 The Chicago Geographic Society brings their Earth Balloon to the Rose Garden on June 4!
Family Activity Stations are located on the Esplanade and in the Native Plant Garden, Regenstein Fruit & Vegetable Garden, and Rose Garden
11 a.m. – 4 p.m.

World Environment Day at the Chicago Botanic Garden offers families many opportunities to have fun while learning about the natural world. Get outside, get inspired, and even get a little dirty! Five activity stations are scattered around the Garden with activities geared for children ages 10 and under. Activity stations are open from 11 a.m. to 4 p.m.
Don't miss additional family tours of the woods at 11:30 a.m. or 2:30 p.m. World Environment Day offers a unique opportunity to learn together!
At the "Treemendous Trees" station on the Esplanade, children can dissect seeds, make leaf rubbings to take home, investigate tree rings to learn about the life of a tree, and discover the kinds of birds that live in the treetops.

The Native Plant Garden is a great place to go to learn about "Powerful Pollinators," from honey bees to butterflies, beetles to bats and even birds! Families can watch live butterflies feed on differently colored nectars, indicating the differently colored flowers they like to visit. They'll explore pollinator parts, including the legs, wings, and proboscis, using real scientific tools; they'll also practice pollinating flowers with a cotton swab.

At "Weather or Not," children will discover how everyone prepares for the weather, from people wearing different types of clothing to animals sheltering in trees or changing colors, and see what happens to pine cone scales when wet and dry.
The "Wiggling Worms" station in the Regenstein Fruit & Vegetable Garden offers children a chance to dig for worms in worm compost bins, look at them closely under magnification, unearth worm cocoons, bedding, and food, and draw pictures to take home. Children can also plant a seed that they will water with "worm tea" and take home to see how worms help plants grow big and strong!
In the Rose Garden, the Geographic Society of Chicago invites families into their 20-foot- tall, hand-painted inflatable Earth Balloon to learn about geography from the inside out!
There will also be a geocaching quest for all to enjoy.
These programs are available to Garden members and visitors as part of World Environment Day programming. Standard Garden parking fees apply; Garden members receive free parking.