World Environment Day

A daylong celebration of awareness and action



Bring your family to the Chicago Botanic Garden's fifth annual celebration of World Environment Day on Saturday, June 2. Activities and programs held throughout the Garden will explore how people of all ages can protect the earth through awareness and action. The theme is "Unite for a Sustainable Chicago."
event highlights
Filled with exciting activities and marked with a special dedication ceremony, World Environment Day will feature Tom Skilling, WGN-TV's chief meteorologist, giving a keynote presentation about recent weather events and their local and global impact. Bob Jordan, WGN-TV anchor, will also deliver a presentation. The day begins with a 9 a.m. dedication ceremony celebrating the opening of the Grunsfeld Children's Growing Garden. A ribbon cutting, tours of the garden, and activity stations for children will include children, parents, and teachers who have participated in Garden programs that connect children with nature.
Cleetus Friedman, chef for our summer Farm Dinners, will demonstrate recipes made with fresh, locally grown produce as part of the Garden Chef Series at 1:30 and 2:30 p.m. Afterwards, visit the Windy City Harvest farmers' market and take home fresh, seasonal produce grown with ecologically sound practices by students in our community gardening program.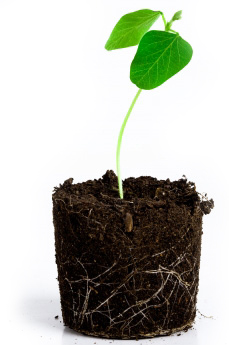 Gardeners can recycle their plastic plant containers from 9 a.m. to 4 p.m. in parking lot 4. Stop by the Regenstein Fruit & Vegetable Garden throughout the day for your free heirloom tomato plant, Blondkopfchen tomato.
Garden scientists, ecologists, and horticulturists share their expertise through free and informal displays and demonstrations, beginning at 11 a.m. At 1 p.m., take a walking tour with the Garden's aquatic curator to learn more about the North Lake Shoreline restoration project currently underway.
Take advantage of these special opportunities by visiting the Daniel F. and Ada L. Rice Plant Conservation Science Center and the Esplanade, where an information marketplace will bring together community groups, corporations, and elected officials.
All visitors are invited to visit the Garden Café. There you will discover exciting changes as well as information on our commitment to using sustainable practices throughout the Garden. From initiatives that reduce the amount of electricity we need to programs for lowering the amount of chemicals we use and trash we generate, the Garden is using as well as demonstrating ecologically sound practices that we hope will inspire our more than 900,000 annual visitors.
The Chicago Botanic Garden celebrates World Environment Day on the first Saturday of every June because we believe the future of life on Earth depends on the degree to which humans understand, value, and protect plants and their habitats. We hope you and your family and friends will join us this year—and every year.

World Environment Day is generously supported by