Schedule for Saturday, June 6, 2015
There are activities for all ages taking place throughout the Garden, from a keynote presentation to ongoing demonstrations and displays. Select programs marked with a family-friendly symbol (

) are designed with younger children (10 years and under) in mind.
Continuous shuttle service is provided throughout the day from the Visitor Center to the Daniel F. and Ada L. Rice Plant Conservation Science Center. Visitors can ride the tram (fee applies) that includes a stop at the Grunsfeld Children's Growing Garden.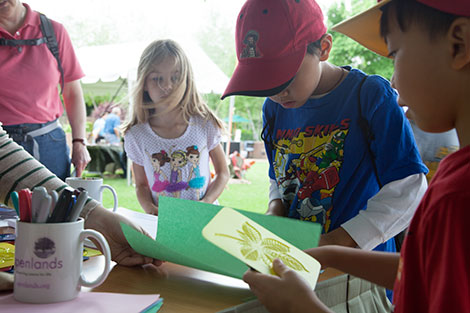 Throughout the Day
PLANT SCIENCE CENTER
Demonstrations & Activities

11 a.m. to 4 p.m.
Ask the Horticulturist: Green Roofs
Plant Science Center, Green Roof Garden
How to Create a Rain Garden with Peter Nagle
Plant Science Center, Rainwater Glen

Meet the Scientists Display Tables
Plants of Concern with Rachel Goad
Breadfruit with Nyree Zerega
Plant Science Center

Lab Demonstrations
Plant Science Center Laboratories  
Grainger Gallery Plant Giveaway
Butterfly weed (Asclepias tuberosa) 
ESPLANADE
Family-friendly performances are slated throughout the day at the entertainment stage. 

Horticulture Demonstrations

Science Display 


REGENSTEIN FRUIT & VEGETABLE GARDEN
Demonstrations & Activities
Plant Giveaway: 'Principe Borghese' Heirloom Tomato seedling

"What's the Current Buzz with Bees?" with beekeeper Ann Stevens
FAMILY DROP-IN ACTIVITIES
Demonstrations & Activities

Rainbow Garden Search
Location TBD
Plant Parts
Location TBD
Regenstein Center
Farmers' Market Stand
Windy City Harvest
Esplanade
Lenhardt Library Display
TBD
Lenhardt Library
Exhibition
Keep Growing: The Chicago Horticultural Society's 125th Anniversary
Joutras Gallery