Schedule for Saturday, June 6, 2015
There are activities for all ages taking place throughout the Garden, from a keynote presentation to ongoing demonstrations and displays. Select programs marked with a family-friendly symbol (

) are designed with younger children (10 years and under) in mind.
Continuous shuttle service is provided throughout the day from the Visitor Center to the Daniel F. and Ada L. Rice Plant Conservation Science Center. Visitors can ride the tram (fee applies) that includes a stop at the Grunsfeld Children's Growing Garden.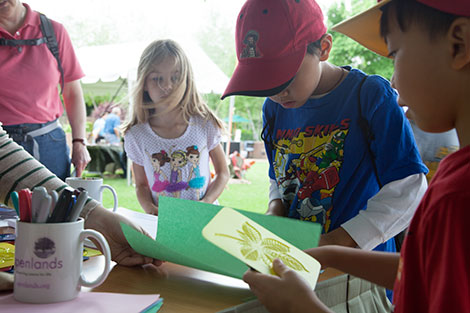 Throughout the Day
PLANT SCIENCE CENTER
Demonstrations & Activities

11 a.m. to 4 p.m.
Ask the Horticulturist: Green Roofs
Plant Science Center, Green Roof Garden
How to Create a Rain Garden
Plant Science Center, Rainwater Glen
Meet the Scientist Carts

Discoveries in the Dirt
Plants of Concern
Native Spider Identification

Prairie Enhancement and Management

Mushroom Identification

Bee Smart: Chicago's Native Bees
Orchids and Their Pollinators
Grainger Gallery Lab Demonstrations
Abbott Ecology Lab
Nancy Poole Rich Herbarium
Dixon National Tallgrass Prairie Seed Bank Preparation Laboratory and Seed Bank
Harris Family Foundation Plant Genetics Laboratory
Grainger Gallery Displays
Northeast Illinois Invasive Plant Partnership
Illinois-Indiana Sea Grant Program
Grainger Gallery Plant Giveaway
Butterfly weed (Asclepias tuberosa) 
ESPLANADE
Demonstrations & Activities
Butterfly Gardening
Best Tools and Their Care
Best Planting and Mulching Practices
Ecofriendly Lawn Care
Ecofriendly Rose Care
Organic Vegetable Gardening
Successful Composting
Water-wise Gardening Tips
Houseplants for Healthier Homes
Ecofriendly Pest Management
Displays

Bartlett Tree Experts 
Baxter Healthcare Corporation 
Illinois Tool Works

UL LLC

Forest Preserves of Cook County

US EPA — Protecting Your Water 

The Geographic Society of Chicago 

Kohl Children's Museum of Greater Chicago 

Little Garden Club of Wilmette — Pocket Prairie Gardens
Animalia Project
Heller Nature Center
FRUIT & VEGETABLE GARDEN
Demonstrations & Activities
Plant Giveaway: 'White Cherry' Heirloom Tomato seedling

What's the Current Buzz with Bees?
Organic Wine Tasting — Bonterra Organic Vineyards
FAMILY DROP-IN ACTIVITIES
Demonstrations & Activities

Super Seeds and additional planting activities
Grunsfeld Children's Growing Garden
Insects and Macroinvertebrates
Kleinman Family Cove
Powerful Pollinators
Esplanade
Stick Sculptures
Esplanade
Regenstein Center
Farmers' Market Stand
Windy City Harvest
Esplanade
Lenhardt Library Display
Butterflies and Pollinators, Climate Change & More
Lenhardt Library
Exhibition
The Hidden Beauty of Moths
Joutras Gallery