SUPPORT THE GARDEN
Volunteer as a Plant Health Care Monitor
Monitors are a cornerstone of successful PHC and Integrated Pest Management (IPM) programs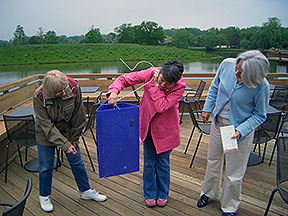 With 24 specific garden areas within almost 400 acres of the Chicago Botanic Garden, monitoring collections in all areas would be a near-impossible task without the help of volunteers. Particularly as the Garden moves deeper into organic gardening practices, it's vital to discover and evaluate pest concerns, and to monitor plant health to prevent or eliminate problems. The Garden's proactive and highly successful approach requires volunteers in a number of areas.
Plant monitors inspect plant collections routinely (usually weekly), spot problems—insect, disease, and cultural—early on, observe changes over time, and record observances. The PHC volunteer needs to possess a basic understanding of the theories of IPM, know basic insect identification (distinguishing between "good" and "bad" insects), understand basic disease identification, and, not essentially but preferably, have completed Master Gardener training and already volunteer with Plant Information. They must be willing to be outdoors, to learn—and to have fun!
A Typical Day for the PHC/IPM Volunteer
During a premonitoring meeting of 15 to 30 minutes, volunteers are apprised of the Garden area to be monitored and discuss the target pests and problems.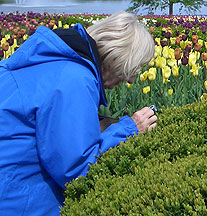 They receive a map and a form to fill out, on which they can make notes. They also review recent PHC reports and socialize a bit before heading into the field. Supplies include a clipboard, sample box and bags, and a magnifying glass.
Once a monitoring session ends (typically within two hours), completed forms are dropped off for the PHC supervisor to pick up. Among the many people who directly benefit from the PHC monitoring effort are employees and volunteers in Plant Information, Garden writers, and teachers at the Joseph Regenstein, Jr. School of the Chicago Botanic Garden.
Case in Point: the Fruit & Vegetable Garden
IPM-based organic practices are playing an integral role in maintaining the display qualities of the Regenstein Fruit & Vegetable Garden as it transitions from conventional to organic gardening practices. Monitoring will be especially intense in an effort to manage potential pest problems early on. The volunteer team will use cultural tactics proactively, including crop rotation, intercropping strategies, companion planting, and the use of control (trap) crops. Refuse strips will be used to attract beneficial insects to the Fruit & Vegetable garden.
Click here to complete a volunteer interest form online.