SUPPORT THE GARDEN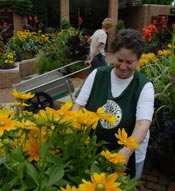 How to Volunteer
How do I become a volunteer?
New volunteers attend a general orientation to learn about the Garden and review specific volunteer service areas. Prospective volunteers fill out an application to indicate their interests, availability, experience, and service preferences. Current volunteer opportunities are discussed to help match your qualifications with the Garden's current needs. In many areas, you will learn on the job from fellow volunteers and your staff supervisor. Specific training is offered and required for some service areas.
What does the staff expect of volunteers?
Expectations for volunteers are similar to expectations for new employees. You are encouraged to do your best to live up to the Garden's philosophy and policies. At the same time, you are sure to enjoy your volunteer work at the Garden and feel that your efforts are helping you grow as a person. Feel free to communicate with the Volunteer Services staff if you have any concerns and when you have ideas about how you can contribute and benefit more as a volunteer.
We look forward to meeting you!

Click here to complete a volunteer interest form online.
Write or visit:
Chicago Botanic Garden
Volunteer Services
1000 Lake Cook Road
Glencoe IL 60022
For more information, contact Judy Cashen, director, volunteer services, at (847) 835-6800 or e-mail .