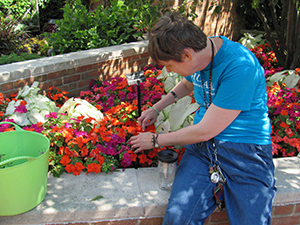 AT YOUR FACILITY
Year-round, one of our trained horticultural therapists will come to your site with all supplies needed to conduct a session or create a container garden. We travel through-out Chicagoland to schools with students who have special needs, to residential or day care facilities, and more. Contracts are usually provided per season, but individual arrangements can be considered.
Spring Contract

Before the weather allows for outdoor gardening, these sessions satisfy the need for nature we all share. Eight weekly sessions for up to 15 participants include fresh flower arrangements, use of dried natural materials in art projects, starting seed for transplant later, and more. Use of a 4-shelf light cart is included, if needed.

Cost per contract: $2,500

Summer Contract

Beginning after the danger of frost, our horticultural therapy staff will help you grow a garden in large, accessible containers. We will deliver the containers and all soil, plants and tools. In 8 sessions scheduled over 16 weeks, a therapist will travel to your site to train you and your clients in garden maintenance. It will be your responsibility to ensure the health of the garden through proper watering and maintenance. There will be sessions that utilize the products of the garden to create beautiful arrangements and edible treats.

Cost per contract: $3,500

Fall Contract

As days shorten and more time is spent inside, these eight weekly sessions focus on harvest, the abundance of nature and creating lasting beauty indoors. Planned to accommodate up to 15 participants, each session will be led by a horticultural therapist at your facility and will include all supplies needed.

Cost per contract: $2,500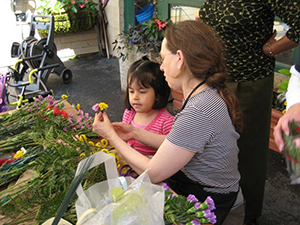 AT THE BUEHLER ENABLING GARDEN
During the growing season (mid-May through mid-October) we conduct sessions for up to 15 participants in our outdoor classroom using this fully accessible garden. he content of the session is tailored to each group's specific needs and goals. Examples include taking a cutting from a garden plant and potting it up to take home; learning about the life cycle of a seed and planting a variety of seeds; using blossoms and foliage from the garden to make an arrangement or an individual or group art project; or harvesting herbs to mix and taste in a delicious dip.
Cost per session: $120.00 includes bus/van parking and unlimited Garden access.
For students with significant special needs, we can modify the offerings under Student Field Trips. We can provide anything from a self-guided tour to an individually designed therapeutic horticulture program as noted above. We are also able to provide an in-school field trip by bringing all supplies needed to your location. Call (847) 835-8248 for more information.
Nature Play:

Fun with Gardening for Sensory Integration

Wednesday – Friday
10 a.m. – noon
$120
Max. number of students: 15

Proper ratio of staff to students is required.

The Buehler Enabling Garden is a safe and comfortable garden where students with sensory processing disorders can experience nature and gardening. Students will be immersed in hands-on activities relating to plants and their sensory properties, have opportunities to increase socialization, and be immersed in a plant rich environment that supports overcoming tactile defensiveness.

Tentative activities include the following:

Potting a plant to take home
Cooking with herbs
Garden Scavenger Hunt