education
Scout Seasonal Workshops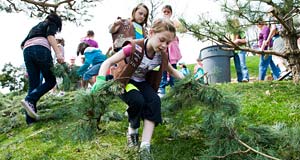 Scout Seasonal Workshops are a fun way for Scouts to meet new people and experience nature's changes. At each workshop, students in small groups rotate through various hands-on learning stations, create take-home projects and enjoy the Garden. Individuals and groups are welcome to sign up.
SCOUT SEASONAL WORKSHOP: EARTH DAY CELEBRATION
Saturday
April 27, 2013
9:45 a.m – noon
$12 per child
K-5th grade Scouts
Learning Center
Scouts can discover the magic of spring through hands-on activities that combine art and science. Participants will make recycled art and help prepare the Garden for the season. Please dress for the weather and wear appropriate outdoor footwear, Scouts will be working outside for part of the workshop.
---
Parking is included for every registered Scout — this is not a drop-off program; please plan to spend the session with your Scout. If you are a group leader registering multiple children, please be sure to have at least one actively involved adult for every five Scouts and duplicate your confirmation e-mail to serve as a parking pass for drivers.