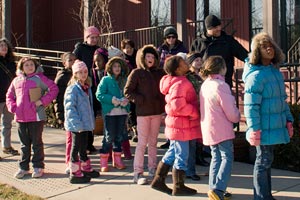 Scout Seasonal Workshops are a fun way for Scouts to meet new people and experience nature's changes. At each workshop, students in small groups rotate through various hands-on learning stations, create take-home projects and enjoy the Garden. Individuals and groups are welcome to sign up.
Scout Late Night: Whooooooo's Out There?
New!
Saturday
September 20
6 – 8:30 p.m.
$18 per child
Join us for a late night at the Garden with fellow Scouts where we will try to spot a nocturnal guest with our eyes and ears, take a tram ride, dissect an owl pellet and enjoy a campfire with s'mores. Come as a group or an individual scout. The Garden welcomes Girl and Boy Scouts as well as other youth groups. Adults should plan to stay with their group for the duration of the program. If you are a leader registering a group, at least one adult chaperone for every five Scouts is required. Parking and a Chicago Botanic Garden activity patch are included. There is no charge for adults.
Scout Seasonal Workshop: Winter Wonders
Saturday, December 13, 2014
12:45 – 3 p.m.
$14 per child
Scouts can discover the magic of nature in winter through hands-on activities that combine art and science. Take a winter wildlife hike through the Garden. Make a fragrant evergreen swag, a snowflake catcher and a beeswax candle.
Parking is included for every registered Scout — this is not a drop-off program; please plan to spend the session with your Scout. If you are a group leader registering multiple children, please be sure to have at least one actively involved adult for every five Scouts and duplicate your confirmation e-mail to serve as a parking pass for drivers.