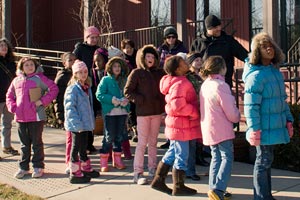 Scout Seasonal Workshops are a fun way for Scouts to meet new people and experience nature's changes. At each workshop, students in small groups rotate through various hands-on learning stations, create take-home projects and enjoy the Garden. Individuals and groups are welcome to sign up.
Scout Seasonal Workshop: Winter Wonders
Saturday, December 13, 2014
12:45 – 3 p.m.
$14 per child
Scouts will discover the magic of nature in winter through hands-on activities that combine art and science by making a fragrant evergreen swag, a snowflake catcher, and a beeswax candle. Be sure to dress for the weather, because Scouts will take a winter wildlife hike through the Garden. A five-minute warm-up session will be led by the staff of Game On! Sports 4 Girls,* so participants will be prepared to spot tracks, animal homes, and nests.

*Game On! Sports 4 Girls: Since 2007, devoted to providing quality sports summer camps and school year programs that also promote confidence, healthy choices, and positive values for girls ages 4 to 14. 
Scout Seasonal Workshop: Valentine's Day
Saturday, February 14, 2015
12:45 – 3 p.m.
$14 per child
Scouts will create recycled Valentines, make paper and learn about sweets that come from plants. Adults should plan to stay with their Scouts for the duration of the program. At least one adult chaperone for every five Scouts is required.
Parking is included for every registered Scout — this is not a drop-off program; please plan to spend the session with your Scout. If you are a group leader registering multiple children, please be sure to have at least one actively involved adult for every five Scouts and duplicate your confirmation e-mail to serve as a parking pass for drivers.