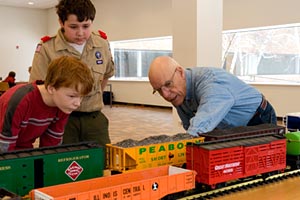 Boy Scouts
railroading merit badge workshop
Check back in Fall 2016 for program date.
Please join us for the railroading merit badge workshop at the Chicago Botanic Garden. This is a great opportunity to meet professionals in the railroad industry and learn from their experience. We will be working with model railroads—they are very realistic and you will be able to complete most of the requirements during the session.
We will not break for a formal lunch period, but please feel free to bring a snack.
Scouts must bring a signed Blue Card from their Scoutmaster.
Prerequisites: Scouts should fill out the railroading worksheet available at meritbadge.org before the workshop. Scouts must complete requirement #8: Select ONE of the following special-interest areas and complete the requirements (Model Railroading or Railfanning).
Parking is included for every registered Boy Scout. This program will take place in the Daniel F. and Ada L. Rice Plant Conservation Science Center (on the east service road). Park in parking lot 2 and plan for a ten-minute walk to the program space. Program registrants will receive a map upon registration. If you are a group leader registering multiple children, please be sure to have at least one actively involved adult for every five Scouts and duplicate your confirmation e-mail to serve as a parking pass for drivers.