Education
School Gardening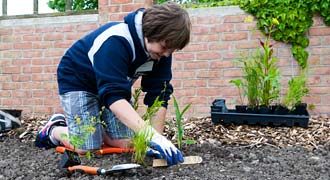 Sample School Gardens and Themes
From the first wisp of an idea to the finished landscape, the Chicago Botanic Garden can help you create your own school garden.
Sample Garden Themes
Butterfly Garden
Have students research plants that attract butterflies.
Discuss the butterfly lifecycle.
Read and discuss The Very Hungry Caterpillar by Eric Carle.
Raise and observe developing butterflies (we like to use products from Insect Lore).
Create butterfly journals to record development of classroom butterflies.
Sensory Garden
Have students find ways to use sight, sound, touch, smell and taste in the garden.
Try edible flowers.
Hold a garden concert using musical instruments made out of garden tools, seed pods, etc.
Prairie Garden
Research to find out which prairie plants are native to your region.
Discuss ways in which Native Americans and settlers used prairie plants.
Learn about endangered native plants in your state or region.
Discuss ways in which early Illinois settlers used prairie plants.
Read prairie plant folklore.
Hold a "seed-saving" day in the fall; collect seeds and create a seed bank.
Native American/Colonial Garden
Plant a Three Sisters garden with corn, beans and squash.
Learn about plants used for dyes.
Discuss medicinal plants; learn how Native Americans and Colonial settlers used plants as medicine.
Read Corn Is Maize by Aliki.
Make seed jewelry using ornamental corn.
Literacy Garden
Use plants found in children's literature such as Peter Rabbit, The Ugly Vegetables or Growing Vegetable Soup.
Create a reading circle in the garden.
Have students construct nature journals to record garden development and collect seeds and pressed flowers.
Have students write stories or poems about gardening or plants in the school garden.
Read seed packets.
Create a school garden newsletter to share with parents and the community.
Shakespeare Garden
Create a garden using plants mentioned in Shakespeare's works.
Discuss the mythical or medicinal uses of Shakespearean plants.
Research the meaning or significance of plants or flowers.
Herb Garden
Discuss "cultural" uses of herbs through history.
Discuss the difference between "herbal" tea and black tea.
Learn how to make herbal teas from plants in the school garden.
Make herbal vinegars or sachets for Mother's Day gifts.
Dry herbs from the school garden and sell at Parent Night to raise money for next year's garden materials.
Vegetable Garden
Encourage children to grow exotic fruits and vegetables that they would like to taste.
Incorporate nutrition lessons.
Grow a "Pizza Garden" that includes plant ingredients on a pizza.
Grow a "Salsa Garden" that includes plant ingredients found in salsa.
Have students keep a food journal to record what plants they eat.
Build and observe a compost bin in your school garden.
Discuss organic homemade remedies for pests and diseases in the school garden.
Discuss when to harvest vegetables in the garden.
Discuss the concept of a "victory garden."
Learn about plant life cycles.
Read and discuss The Reason for a Flower by Ruth Heller.
Kinder Garden
Create an ABC garden using plants that start with each letter of alphabet.
Reinforce shapes by building raised beds in various geometrical shapes.
Plant a Rainbow Garden using flower color to create a "rainbow."
Craft Garden
Grow plants that can provide materials for art projects (e.g., dried flowers, flowers for pressing, interesting seed pods, gourds).
Sell items made with garden products to raise money for the next garden season.
International Garden
Use plants native to countries around the world.
Have students research a particular country and choose plants that represent that country.
Incorporate student art that reflects a particular country or region of the world.
Survey your school to learn more about student origins, and use plants from students' native countries.
Create a school garden recipe book with recipes that use items from the school garden and that students have collected from their native countries.
Wildlife Garden
Incorporate a tree with berries for the birds in your garden.
Use tall grasses for small animals to hide in.
Install a birdbath or bird feeder outside a classroom window.
Have students research plants and flowers that specifically attract hummingbirds, butterflies or moths.