Adult Education Classes
Trees as a Legacy in Design and Development
Presented by Bartlett Tree Experts and the Chicago Botanic Garden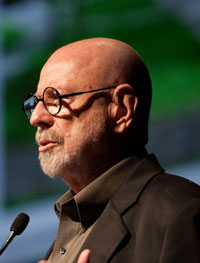 Find out more about PWP Landscape Architecture at www.pwpla.com.
Peter Walker, FASLA
Senior Partner, PWP Landscape Architecture, Berkeley, California
Peter Walker has had a significant influence on the field of landscape architecture over a five-decade career, crystallizing what is known as the American corporate multidisciplinary office. Educated at the University of California at Berkeley and at the Harvard University Graduate School of Design, Walker has taught, lectured, written, and served as an advisor to numerous public agencies, while exerting personal control over the design of his own projects.
The scope of his landscape inquiries is expansive and deep. Projects range from small gardens to new cities, from urban plazas to corporate headquarters and academic campuses. With a dedicated concern for urban and environmental issues, his designs shape the landscape in a variety of geographic and cultural contexts, from the United States to Japan, China, Australia, and Europe.
Walker is founder of Spacemaker Press, and his work has been extensively published in Europe and Asia as well as the United States. He is a Fellow of the American Society of Landscape Architects and of the Institute for Urban Design and has been granted the Honor Award of the American Institute of Architects, Harvard's Centennial Medal, the University of Virginia's Thomas Jefferson Medal, the American Society of Landscape Architects' Medal, and the International Federation of Landscape Architects' Sir Geoffrey Jellicoe Gold Medal.
⇐ Return to symposium information