Adult Education Classes: Symposia
Chicago Regional Forum on Ethics and Sustainability
Healing Nature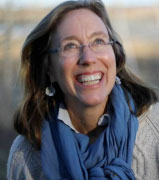 Laura Sewall's background in environmental law and ecopsychology brings a unique focus to her work.
Laura Sewall, Ph.D.
Laura Sewall, Ph.D., is the director of Bates-Morse Mountain, a 600-acre research and conservation area on the coast of Maine. Dr. Sewall holds a master's degree in environmental law from Vermont Law School and a Ph.D. in visual psychology and neuroscience from Brown University. She taught ecopsychology and related courses for a decade at Prescott College in Arizona and is the author of Sight and Sensibility: The Ecopsychology of Perception (1999).
Dr. Sewall has published articles in a variety of academic journals, magazines, and collected works. Most recently, her work has appeared in The Way of Natural History (Fleischner, 2010) and in a forthcoming volume entitled Ecopsychology: Science, Totems, and the Technological Species (Kahn and Hasbach, 2012). Prior to joining Bates College, she was executive director of the Kennebec Estuary Collaboration, a conservation partnership focused on the lower Kennebec River region in Maine. She serves on the board of Maine Rivers and is on the editorial board of the Natural History Network.