Adult Education Classes
Sustainable Urban Greening—Macro to Micro
Presented by Bartlett Tree Experts and the Chicago Botanic Garden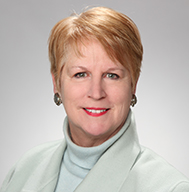 Find out more about Debra Mitchell's work at www.smithgroupjjr.com.
Debra Mitchell
FASLA, LEED AP, Senior Vice President, SmithGroupJJR, Chicago, Illinois
Deb Mitchell is a Senior Vice President of the multidisciplinary firm of SmithGroupJJR. As leader of the firm's Community Practice, she understands urban complexities and public processes while planning and designing vital public spaces.
These civic projects include Chicago's Near North Redevelopment Initiative for the Office of the Mayor, the transformative Northerly Island Framework Plan, the elegant park setting at the AT&T Performing Arts Center, and the National Garden at the United States Botanic Garden. Deb has also been giving back to the profession, serving as national president of the American Society of Landscape Architects and the Landscape Architecture Foundation. Recently she has been helping develop the Landscape Architecture Foundation's Landscape Performance Series.
Deb received a Bachelor of Science degree from the University of Kansas and a Master of Landscape Architecture degree from the University of Illinois.
⇐ Return to symposium information