Adult Education Classes
Sustainable Urban Greening—Macro to Micro
Presented by Bartlett Tree Experts and the Chicago Botanic Garden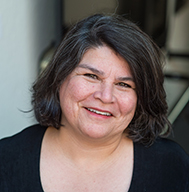 Find out more about Laura Solano's work at www.mvvainc.com.
Laura Solano
Laura Solano, Principal, Michael Van Valkenburgh Associates, Cambridge, Massachusetts

Laura Solano is a Principal at Michael Van Valkenburgh Associates in Cambridge, MA, and an Associate Professor in Practice of Landscape Architecture at Harvard University's Graduate School of Design. A landscape architect for over 30 years, she speaks frequently on technical innovations, highlighting areas for potential creative overlap between landscape technology and landscape design, including integrating biological management programs in planting design, innovative drainage and water reuse, sustainable soils, and materials repurposing.
Laura was on the Soils Committee for the Sustainable Sites Initiative of the American Society of Landscape Architects, Lady Bird Johnson Wildlife Center and the United States Botanic Garden. Her work has been featured in the books Reconstructing Urban Landscapes, Michael Van Valkenburgh Associates: Allegheny Riverfront Park and more. She received the Boston Society of Architects' Women in Design Award of Excellence and was featured in the film Leaders in the Field: Women in Landscape Architecture.
⇐ Return to symposium information