Adult Education Classes
Trees as a Legacy in Design and Development
Presented by Bartlett Tree Experts and the Chicago Botanic Garden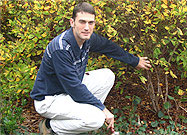 Find out more about Kelby Fite and Bartlett Tree Research Laboratory at www.bartlett.com/bartlett-tree-research-laboratories.cfm.
Kelby Fite, Ph.D.
Arboricultural Researcher, Bartlett Tree Research Laboratories, Charlotte, North Carolina
Kelby Fite holds a Ph.D. in plant and environmental science from Clemson University, with a research focus on urban soil renovation and root biology. He also holds a master of plant protection and pest management, and a bachelor of science degree in horticulture, both from the University of Georgia.
He has been a member of the Bartlett Tree Research Laboratories team for 10 years, beginning as a plant protection specialist and diagnostic lab manager. In his current position as arboricultural researcher, his key area of responsibility is research and public education in shade tree management and arboriculture, with emphasis on urban soils and integrated pest management.
⇐ Return to symposium information