Adult Education Classes
Sustainable Urban Greening—Macro to Micro
Presented by Bartlett Tree Experts and the Chicago Botanic Garden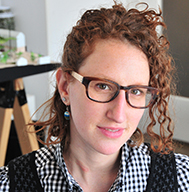 Find out more about Claire Cahan's work at www.studiogang.net.
Claire Cahan
LEED AP, Design Team Member, Studio Gang Associates, Chicago, Illinois
Claire Cahan is a member of the design team at Studio Gang Architects. Studio Gang is a Chicago-based collective of architects, designers and thinkers founded by Jeanne Gang in 1997.
The studio acts as a lab for testing ideas on varying scales: from cities, to environments, to material properties. The firm's projects range from tall buildings like the Aqua Tower, whose façade encourages building community in the vertical dimension, to the Nature Boardwalk at Lincoln Park Zoo, where 14 acres of biodiverse habitat are designed to double as stormwater infrastructure and engaging public space.
Claire joined the studio in 2007 after graduating with a Master of Architecture degree from Tulane University, in New Orleans. She worked closely with Jeanne Gang and Mark Schendel, the design and managing principles of the firm, as well as with a team of experts, to develop the Northerly Island Framework Plan.
⇐ Return to symposium information