School Spotlight
The Rhythms of Stone
Sculpture Workshop
October 11 – 14, 2013
Friday – Monday
9 a.m. – 3:30 p.m.

McGinley Pavillion,
Regenstein Center
Register online for this event.
The sounds of autumn at Chicago Botanic Garden will once again carry the cadence of chisels upon stone as sculptor and author DJ Garrity returns from Europe to conduct "The Rhythms Of Stone," a long-running and popular garden sculpture workshop. The artist is the former Sculptor-in-Residence of Mount Rushmore National Memorial, and currently divides his time between France and the West of Ireland while working on a series of portraits in stone based upon Nobel Laureates.
Garrity is also the author of a book entitled The Rhythms of Stone; a guide to carving the human face in stone. His four-day workshop blends the basic elements of portraiture and stone carving technique, as participants utilize simple hand tools to finesse unique garden sculpture from blocks of rough Indiana limestone. No experience is required. Additional information concerning the artist is available at www.djgarrity.com.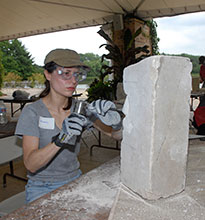 This program is an example of the diverse art programs being offered in the Adult Education department featuring visiting artists. We are honored to work with such distinguished artists in their profession and hope you enjoy tapping in to your creative side with this stone carving workshop!
Learn more about botanical arts adult programs at the Chicago Botanic Garden.