Adult Education Classes
University of Illinois Extension Master Gardener Program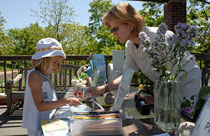 The 60-hour volunteer component is met by volunteering in one of the approved service areas of the Garden. These include Plant Information, interpretive programs, youth and school programs, display gardens, and other areas as needed and approved.
There are no prerequisites other than some knowledge or experience in gardening or land management (expertise is not required) and a willingness to learn about horticulture, and to share that knowledge with others. Participants must also commit to fulfilling the volunteer component of the program. Applicants are asked for a preferred volunteer area. Interviews with staff representatives ensure a good match of qualifications and schedule to a volunteer area.
The online training session will be held from January–May, 2014. Application submission to the 2014 Online Training Program is now closed. View system requirements.
Our next onsite training will be in 2015.