Rare Plant Restoration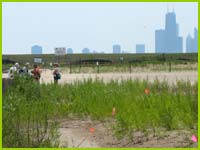 Montrose Beach Dunes, transformed by volunteer steward Leslie Borns. Six years ago there were few plants at this site.
To conserve rare plants, we first must understand the health of native plant populations and the reasons for decline. Chicago Botanic Garden scientists conduct regular and standardized monitoring, informing both scientists and land managers about the growth or decline of rare plant populations, and potential threats to their continued existence.
Through the Chicago Botanic Garden's Plants of Concern (POC) program, a network of volunteers, trained by and working closely with scientists, monitor the health of 185 endangered, threatened or rare plant species at nearly 200 Chicago area sites. Data is shared with land managers and analyzed to identify relationships between plant population health and natural and man-made changes to the environment.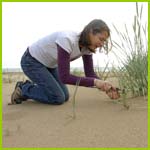 Single-species restoration is the reintroduction of a rare species that is no longer present in its native site. The goal is to create new populations able to withstand evolutionary challenges as well as healthy, natural populations. With the Morton Arboretum and Chicago State University, and supported by funding from the National Science Foundation, the Chicago Botanic Garden is studying the reintroduction of Pitcher's thistle (Cirsium pitcheri), a federally listed threatened plant. This thistle was lost from the shores of Lake Michigan in Illinois in the early 1900s. The project, launched more than 15 years ago, is restoring this species to the Illinois lakeshore.
To aid in future rare plant restoration work, Garden research is investigating why some rare plant species successfully reproduce and maintain stable populations. Reproductive biology research also is underway on the dog violet (Viola conspersa), and prairie bush clover (Lespedeza leptostachya). The Lespedeza work is conducted in collaboration with Nachusa Grasslands, a preserve owned by The Nature Conservancy. A demographic research project on the Eastern prairie white fringed orchid (Platanthera leucophaea) provided important information about hand pollination: pollinating too many flowers can harm the maternal plant, but a 30% pollination rate resulted in the largest, healthiest plants.
Top photo: Emily Kapler