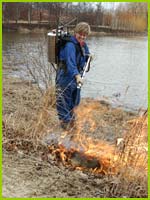 Land Management
Natural ecosystems such as prairies, woodlands, oak savannas and wetlands provide many human benefits (ecosystem services). These include climate moderation, seed dispersal, mitigation of drought and floods, protection from the sun's harmful ultraviolet rays, soil preservation, purification of air and water, pollination of crops and natural plant species, and erosion control, especially along shorelines and coastlines.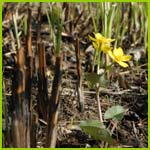 Ecosystem services are disrupted as prairies, savannas and agricultural fields are developed. Direct management is recommended as a way to mitigate these disruptions. Management activities include prescribed burns that create open areas and increase biodiversity; removal of invasive species such as garlic mustard and buckthorn, which may crowd out native species and alter the site's physical and chemical properties; and restoration activities such as reintroducing rare or imperiled plant species.
On site at the Chicago Botanic Garden, we support land management activities that promote good ecosystem functioning so that our natural areas are better able to provide the services on which we depend. We also share expertise with other scientists, teachers, students and the general public.
Land management activities in which our staff and volunteers are directly engaged include restoration management of our natural areas, soil research, lakes management, plant inventories and monitoring, and conservation science.