Plant Science: Areas of interest
Conservation Science
Almost every schoolchild has heard about the plight of the panda. In fact, pandas have become an international symbol for endangered species. But how many people think about prairie bush clover, or even the beautiful Eastern prairie white fringed orchid, when the topic of endangered species comes up?
Did you know:
All life depends on plants. Humans use plants for food, medicine, clothing, shelter, and oxygen. We directly depend on plants for our survival.
The earth's plants are in peril. According to the 1997 World Conservation Union report, 34,000 species, or 12.5 percent, of the world's flora are facing extinction. In the United States, 4,669 species, or 29 percent of the country's plants, are in danger of becoming extinct. United States flora is the fourth most threatened flora in the world, behind that of St. Helena, Mauritius, and the Seychelles.
As of January 2001, there were 735 species of plants, but only 496 animals, listed as threatened and endangered by the United States Fish and Wildlife Service.
Unless action is taken now, one-third of the earth's species could be extinct by 2050 and two-thirds could be extinct by 2100, according to estimates by Dr. Peter Raven and other prominent scientists.
The Chicago Botanic Garden is committed to conserving the rarest plant species of the Midwest and working with other regional, national and international organizations on behalf of plant conservation. Conservation is a mission common to many of the Garden's departments and is the primary focus of the Conservation Science Department.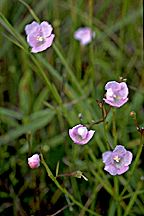 The Chicago Botanic Garden has long been interested in plant conservation. Nearly one-third of the Garden's 385 acres is devoted to natural areas. For many years, the Garden has supported an active program of research in these areas — McDonald Woods, the Dixon Prairie, the Skokie River Corridor, and the Lakeshore. This research has focused on the impact of restoration and reconstruction on plant species and communities. Experiments have also been underway to determine the best management protocols for these environments.
In the mid-1990s, steps were taken to extend the impact of Garden science and broaden its scope. The Conservation Science Department was established and dedicated to the preservation of rare plants in the upper Midwest as well as to the restoration of the plants lost from natural landscapes. Research focuses on understanding the genetic and ecological factors that influence the reproductive success and population stability of plants in both natural and reintroduced settings.
The department consists of three programs:
The Conservation Science staff has developed strong relationships with a number of partners including universities, other gardens and arboreta, as well as regional, national, and international conservation agencies.
This website presentation of Chicago Botanic Garden science programs is made possible in part by PotashCorp,
promoting science and sound practices for a sustainable environment.