Plant Science: Areas of interest
Conservation Science
Bureau of Land Management Internship Program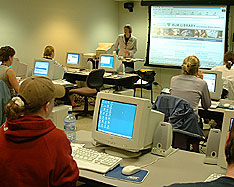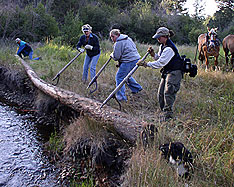 All it takes is a plane trip from Chicago to California to make you realize how vast western America is. Now add a trip from California to Alaska, and you'll see why the federal Bureau of Land Management (BLM) asked the Chicago Botanic Garden for help.
The Bureau oversees 260 million acres of land. One of its jobs is to make sure endangered plants and animals living on this land are protected. Right now, this Department of Interior agency has only 54 botanists to help. That's one for every 4.8 million acres of land. And fewer than 400 biologists—one for every 650,000 acres.
An internship/mentoring program was created, and with the help of the Garden, the Bureau is now employing graduate biologists and botanists during the summer and fall to help ensure that the diversity of plant and animal life is maintained. The Bureau awarded the Garden a $900,000 grant over a three-year period.
"We are very excited about the program as we have a tremendous amount of work to do and not enough people to do it," said Peggy Olwell, manager of the Bureau's Endangered Species Program.
Why did the Bureau pick the Garden as a resource? It has the expertise to recruit and train interns. Garden staff provide the interns with a broad and practical understanding of what endangered species need to stay alive–both plants and animals. And the Garden has the ability to support the interns while they are in the field in Colorado, Wyoming, California and elsewhere. This all helps to make the program successful.
"One intern reintroduced endangered black-footed ferrets into the wild," noted Dr. Lara Jefferson, who manages the intern program. "Another intern spent her time maintaining watering holes. There was an incredible drought, and because of her work, they were able to save a lot of wildlife."
The interns, graduates from universities across the country, are first given a six-day refresher workshop. The training brings in a variety of Garden staff members. Pati Vitt teaches plant identification, while Susanne Masi explains plant monitoring. Other experts teach about mapping skills, Geographical Information Systems (GIS) software, Endangered Species Act and animal identification.
And then the interns are sent West to help maintain needed diversity of plant and wildlife across the vast wilderness of BLM land.
"We have the expertise to connect the science to what's actually happening in the natural world," said Dr. Jefferson, who came to the Garden in 2002 from Perth, Australia. And by looking at nature broadly, the chances of success are much greater.