PRESTIGIOUS LEADERSHIP AWARDS PRESENTED TO GARDEN SCIENTISTS
Two Garden scientists have received prestigious awards in recognition of their outstanding contributions to plant science and conservation.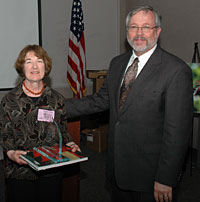 Susanne Masi, the Garden's manager of regional floristics, was presented the US Forest Service Excellence in Botany Partnership Development Award at the recent US Forest Service Celebrating Wildflowers/Botany Awards ceremony in Washington, D.C. This award recognizes an individual or individuals who demonstrates outstanding, dedicated leadership in partnership development within botany. Susanne shared this award with close collaborator Eric Ulaszek from Midewin National Tallgrass Prairie.
Larry Stritch, senior botanist at the US Forest Service, presented the award and said, "Susanne and Eric have accomplished exemplary work in the Chicago Botanic Garden Plants of Concern rare plant monitoring program….[They] have done a tremendous job in coordinating this ongoing partnership to benefit the rare plants on the Midewin National Tallgrass Prairie."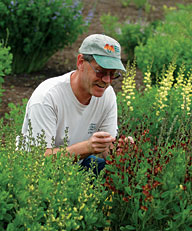 Jim Ault, director of ornamental plant research at the Garden, will receive the Luther Burbank Award from the American Horticultural Society (AHS) on June 4 during the Great American Gardeners Awards Ceremony and Banquet at River Farm, the AHS's headquarters in Alexandria, Virginia.
This award recognizes extraordinary achievement in the field of plant breeding. In selecting Jim for the award, the AHS noted that Jim's focus on interspecific hybridization "has produced plants with unique traits, such as the first orange coneflower, Echinacea Orange Meadowbrite®, and the first three-species Echinacea hybrid, Pixie Meadowbrite®."