Bonsai Silhouette Show
Friday, January 24, through Sunday, January 26, 10 a.m. to 4 p.m.
Family Activities
Saturday, January 25, and Sunday, January 26, 10 a.m. to 4 p.m.
Lectures at 2 p.m.
Saturday, January 25: Ivan Watters
Sunday, January 26: Tim Priest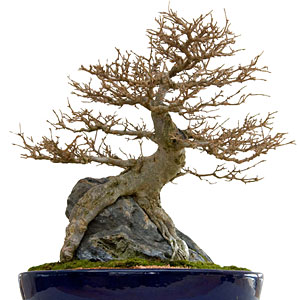 To celebrate the winter season in the Japanese tradition, the Chicago Botanic Garden highlights the Three Friends of Winter (pine, plum, and bamboo), which, in Japan, endure cold weather and are symbols of flourishing under adverse conditions.
The popular silhouette bonsai show features deciduous trees from the Garden's Bonsai Collection and select trees from exceptional private bonsai collections in the Chicago area. The Collection comprises more than 220 trees and is regarded by bonsai experts as one of the best public collections in the world. Curator Ivan Watters works with more than 25 skilled volunteers to maintain the Collection, which began when the Garden opened more than 40 years ago. The Collection gained international acclaim when bonsai master Susumu Nakamura donated 19 prized specimens from his private collection in 2000.
In the Three Friends of Winter show, each bonsai will be exhibited with an accent object such as suiseki, incense burner, statuary, or pottery on contemporary designed cottonwood benches made from trees felled within the Garden. Deciduous bonsai trees are particularly beautiful in the winter, when their branch structure can be admired without foliage. In this dormant phase, the bonsai are living sculptures. Bonsai masters carefully prune branches and roots, pinch back new growth, wire and shape tree forms, and monitor each plant's individual need for water, sunlight, soil mix, and fertilizer. Through such attention and care, each bonsai artist creates a living story. The Three Friends of Winter are incorporated into a Japanese garden (tsubo-niwa) within the exhibit.
During the bonsai show, families can also partipate in hands-on activities as part of the Malott Japanese Garden Family Weekend. Activities include creating scrolls featuring the Three Friends of Winter and bonsai silhouette shapes by using shades of black ink in the sumi-e tradition. Learn about the symbolism of pine, plum, and bamboo, and how the scrolls are used not only decoratively but also to tell a story. A number of the bonsai on display during Three Friends of Winter are featured in the book Bonsai: A Patient Art, which will be on view and available for purchase during the show.
Three Friends of Winter is generously supported by the Astellas USA Foundation.