Your Garden — Plant Information Service
Plant Information Services at the Garden
Master Gardeners and Horticulture Specialists provide the following services to Garden visitors, Internet clients, and callers on the Plant Information Hotline at (847) 835-0972:
Recommendations on care of trees, shrubs, annuals, perennials, vegetables, fruits, and houseplants
Diagnosis and treatment options for control of insects, diseases, and cultural disorders
General gardening information on soils, composting, pruning, mulching, and more
Plant and insect identification
Recommendations on plant selections for northern Illinois
Assistance with locating purchasing sources for particular plants
Contact us online with your:

Please be sure to read our guidelines for specimen collection and submission if you will be bringing in a sample for diagnosis. If you will be sending images through the online forms above, please send files in one of the requested formats.

Remember! Our diagnosis is only as good as your sample. Please follow our guidelines for collecting and submitting samples in order for us to provide you with accurate answers to your questions.
Question of the Month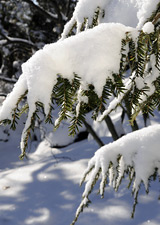 Q: As the snow in my garden melts, there appears to be something wrong with my evergreen shrubs. They look broken and trampled. Is this snow damage and what can I do about it?
A: As the snow begins to melt at this time of the year, plants in our gardens are exposed to browsing animals. This winter's excessive snowfall completely covered many woody and evergreen shrubs, which reduced feeding choices for hungry deer and rabbits. Unfortunately, many evergreens, especially yews and arborvitae, are favored by deer. Arborvitae grazed by foraging deer will most likely survive, but may be permanently damaged. Yews generally will survive this type of "natural pruning," but their size may be greatly reduced. To differentiate between snow-damaged shrubs and plants foraged by deer, check for scat and hoof prints. Although not entirely reliable, repellents may be a helpful deterrent. If this is a common occurrence in your garden, you may want to consider installing plants less favored by deer.
Please contact Plant Information Service at (847) 835-0972 for information about plants.